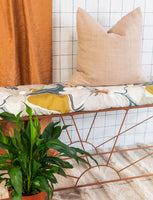 Enhance Your Comfort and Style with Versatile Layering Options
Add simple, classic layering to window and bench seats, removable layer on your sofa for little people and pets, or a snuggly decorative throw for the end of your bed.
Choose your fabric, button style, and one or two layers of recycled cotton wadding for your desired depth and comfort. Made in Auckland.
Request a Quote
Got a question about Pea Mattress? Request a quote and we're happy to assist you.