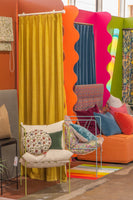 Transform Your Home with Customizable Curtain Rods and Tracks and Over 1,400+ Fabric Options.
Curtain rods and tracks are more than just a way to hang your curtains. With several highly customisable options, you can achieve a transformative design or keep it simple; the choice is yours. Our curtain rods and tracks are made exactly to your measurements and are powder coated in the colour of your choosing. While you choose your tracks, why not decide on curtains to go with them? With over 1,400+ fabrics to choose from, you can achieve your ideal design conveniently in one location.
Request a Quote
In need of new curtain hardware? Request a free quote for custom made curtain tracks and rods!