Custom Making at Martha's
Design your Style with Custom Making at Martha's.
Looking for something unique for your interior spaces? We offer extensive options of custom made products for you home!
We are proud to work with a handful of talented local makers, with all custom items being made right here in Auckland.
Our services include custom Curtains & Blinds, Headboards, Cushions, and Pea Mattresses, using our fabulous range of fabrics sourced from all around the world.
VIEW ALL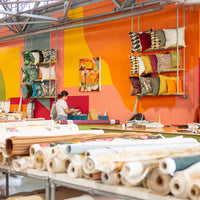 Best Fabric Store
When you ask yourself "What's the best fabric store near me?" The answer is Martha's.
We make purchasing fabric online, in NZ easy. Martha's is one of the leading Fabric stores in Auckland. We are proudly NZ owned and operated, with an extensive range of fabrics, curtains, cushions and more. We are unlike any other Auckland fabric shops, we offer free shipping on samples, keep all stock readily available on site, and have a highly experienced team of hands-on professionals.
We want you to have all the tools you need to make your interior dreams come true. That's why we offer a massive selection of fabrics in every colour, style and finish you could dream of—and then some! If you're not quite ready to tackle the making yourself, we also offer an extensive range of custom made options, working with a very talented group of makers right here in Auckland. The possibilities are endless!
Martha's Furnishing Fabrics
From luxurious Belgian linens, to commercial grade velvets, New Zealand made wools, UK prints and upholstery jacquards, cotton tickings, and high quality upholstery fabrics and printed designs of all colours and styles from sustainable sources all around the world.
The only thing better than our range of fabrics is how easy it is for you to find exactly what you're looking for. You can use our filters or search by keyword or colour name—whatever works best for you! We offer delivery on everything, including fabric NZ wide!